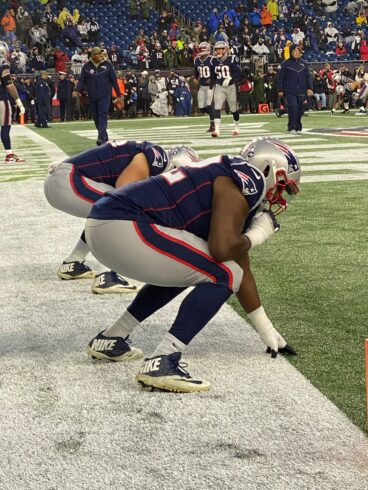 La vuelta de Tom Brady a la que fue su casa protagoniza estas Americanadas. Beñat y Whiteman se fijan en uno de los partidos de la jornada. La victoria de los Buccaneers 17-19 ante los Patriots en Foxborough. Un encuentro con mucha carga simbólica puesto que suponía la vuelta de Tom Brady a la que fue su casa. Con la maestría que caracteriza a la NFL a la hora de armar calendarios, también se dio la circunstancia de que Brady logró un nuevo récord. Nadie ha logrado más yardas que el QB de los Bucs en la historia de la NFL.
No solo había interés por ver lo que sucedía en el campo (debutó, sin brillo, Sherman para los de Florida). Interesaba mucho lo que pudiera pasar en la banda entre Belichick y Brady. La próxima publicación de un libro sobre la franquicia de Nueva Inglaterra ( It's better to be feared, del periodista Seth Wickersham, de ESPN) ha desvelado que la relación entre alumno y maestro está muy deteriorada. Ambos lo han desmentido.
La vuelta de Tom Brady se saldó con victoria aunque tendrán que seguir trabajando. El objetivo, un nuevo anillo.
La jornada  dejó otras cosas curiosas, como el esfuerzo de los Ravens por mantener su racha de partidos con más de 100 yardas terrestres. Hay que hablar más de los récords.  Y por fin ganaron las franquicias neoyorquinas. No habían ganado las dos el mismo día desde diciembre de 2019.
La MLB inaugura sus playoffs
La MLB ha abierto los playoffs con la emoción característica de la ronda de comodín. Tras la victoria de los Red Sox 6-2 ante los Yankees y la épica de los Dodgers 3-1 ante los Cardinals, ya conocemos el cuadro completo. En la Americana, los Rays se medirán a los  Red Sox y los White Sox harán lo propio ante los Astros. En la Nacional, Giants vs Dodgers y Braves vs Brewers.
También hay tiempo para la complicada situación que se vive en la NWSL, donde se ha destapado un escándalo de abusos sexuales.
Un héroe americano caído
Esta semana, Americanadas no es la única cita con el deporte norteamericano. Lance Armstrong es el protagonista de Buenos, feos y malos, el nuevo espacio deportivo de esta casa.

---
Si te gusta Bizkaia Juega, suscríbete en nuestros canales de podcast:
Y sigue a Radio Popular en las redes sociales: